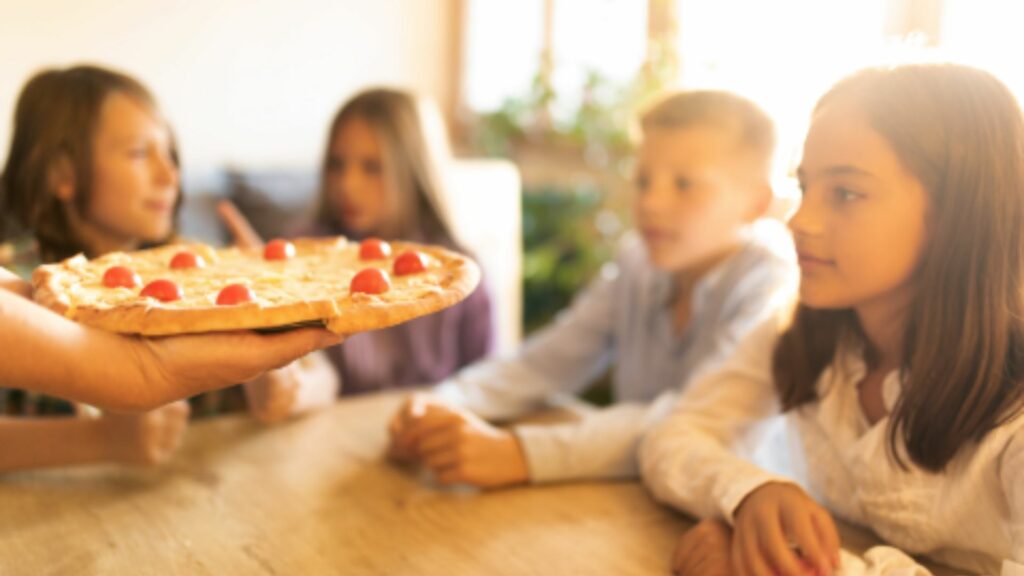 This course is designed for educators and health professionals to raise their awareness of the negative impact that normalized language about food and bodies can have on the mental health of children and youth and offers practical tips to foster both physical and mental well-being.

Understanding YOUR inherent biases
Understand the biases you hold (and are not aware of) related to food choices, eating habits, body weights and shapes. This is not meant to shame you, but to help you to be more mindful with your thinking!
Mental health of children and youth
Increase your awareness of the negative impact that normalized language about food and bodies can have on the mental health of children and youth, including increasing risk of disordered eating and low self-worth.
Sensitive and inclusive language
Be challenged to adopt and practice language that is sensitive and inclusive related to food choices, eating habits, body weights and shapes. Learn how statements like "eat your healthy food first" can be harmful – and what to say instead!

Module 1: Self-discovery
In this module you will discover where your thoughts and attitudes come from related to food and bodies, and how to avoid acting on biases that are contrary to your conscious values and beliefs.
Module 2: Dangers of a diet culture
In this module you will learn how Western ideals can negatively influence how you feel about yourself and how you see others, the severity and devastating impacts of weight bias and how to combat it.
Module 3: The power of words
In this module you will examine how normalized language about food and bodies can negatively affect the health and well-being of children and youth, and how to be intentional with sensitive and inclusive (neutral) language that "does no harm".

"This course is important for any healthcare professional to take so they can alter their practice to be more inclusive."
"The food rules and shaming activity was very impactful. Although I try to teach without diet culture or weight bias, it made me aware that I still have a lot of internalized shame and stigma about my own food choices and body size."
"I liked all the activities. They were relevant and provoked good thought and reflection."
"Activity #8 was a very strong activity as I have experience body shaming personally and how it continues to affect my self image."
"Really great course, such an important topic that I think all healthcare professionals should be aware of. Thanks!"

Upon completion of this course, you will earn a course certificate that you can share in the certifications section of your LinkedIn profile, on printed resumes, CVs, or other documents.

Connected Insiders, OPHA members, constituent society members: $79.99 (please note, this rate is for the individual member and cannot be applied to groups).
Regular: $139.99
Organizational (5+): Contact us for group pricing options at admin@opha.on.ca
Nutrition Connections is committed to making educational content as accessible as possible. Please contact us if cost is a barrier.

Make a big impact
You want to make a BIG IMPACT on the lives of children and youth in your sphere of influence. One way to do this is to start a culture shift in your organization by applying what you learn in this course. But, that's a lot for one person.
That's why we offer organizational pricing so your colleagues can learn and apply this knowledge too! Now's the time to make a BIG IMPACT! Contact us for more information at admin@opha.on.ca.

What is the course format?
The course is completely self-paced, so participants can access it anytime. It has a variety of interactive elements and has a strong basis in self-reflection. Participants are encouraged to be open-minded and willing to unlearn and relearn some ways of thinking and speaking (about food and bodies).
How long does it take to complete the course?
Based on the pilot study, participants took an average of 2-3 hours to complete the whole course. It may be beneficial to take breaks to allow more time for reflection, and to revisit modules, for further consolidation of the learning.
How long do registrants have to access the course?
The course will be available to participants indefinitely.
Not sure if this course is right for you? Our Senior Policy and Program Strategist and registered dietitian, Sandy Maxwell, would be happy to connect with you to answer any questions you may have. To connect with Sandy, please call 416-367-2034, or email at smaxwell@opha.on.ca.