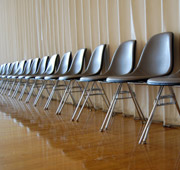 Workplace Violence: Prevention and Intervention
When: August 20, 2015
Time: 8:00 am
Where: 200 Front Street West
Work related aggression and violence within the health and social services sector can compromise organizational effectiveness and negatively impact the provision and quality of care.
Due to continued interest following our sold out Workplace Violence: Prevention and Intervention conference that was held on March 27, 2015, the Ontario Hospital Association (OHA) is pleased to offer the event again this summer.
Providing an opportunity to build on the content originally presented, this event will offer a facilitated discussion on creating a workplace culture of safety and respect for employees, patients, visitors and other stakeholders.
To allow for greater accessibility, this event is offered as both an in-person conference and live webcast.
Registration Information
This conference is also offered as a full day webcast event. You can select either option when registering.
Please note: space is not guaranteed unless payment is received prior to the event.
Registration Fee
Special Rate
$399 + HST
Discount Policy
The first registrant must pay the full registration fee. If more than one full registration is received from the same organization, a 15% discount (+ HST) will apply to each additional registration received. All group registrations must be received at the same time. This discount is not valid with other program promotions.
Discounted fee for each additional registrant:
$340 + HST
Payment Method
Payment can be made by Credit Card (American Express/VISA/Mastercard) or Cheque. Please note: for transactions less than $300 before taxes, payment must be made by credit card.
Badge Pick-Up
Registration badges can be picked-up on Thursday, August 20, 2015 at 8:30am at the OHA Education Centre, 200 Front Street West, 27th Floor, Toronto.
Accommodation
If you require accommodation, please visit www.oha.com/hotelcorporaterates for special hotel rates and information.
Cancellation Policy
A $200.00 (+ HST) processing fee per registrant will apply to cancellation refunds received in writing up to five business days prior to the event. No refunds will be given for cancellations received less than five business days prior to the event. Substitutions are welcome. The OHA reserves the right to cancel or reschedule an event.