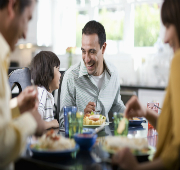 Nutrition and Food Services: The Patient Experience
When: March 20, 2014
Time: 10:30 am
Millions of meals are served in hospitals and long-term care homes to patients and residents every year. However, achieving optimal nutrition for their client populations is still an overarching goal for many health care organizations, for many
reasons, some beyond, and some within, the nutrition and food services arena.
However, times are changing as fitness and nutrition are at the forefront of all media. People are becoming educated on these topics and their expectations of the service and food quality they receive while in a health-care setting are rising.
Patient experience is becoming one of the key indicators that organizations utilize to measure their performance. Many times a patient's health care experience is rated based on the "quality of food." Can your organization take advantage
of this opportunity, and improve the patient experience indicator by improving the service and quality of food provided? What are the opportunities and constraints associated with this challenge?
Join us for this one day conference that will bring together key researchers, policy-makers and health care providers to offer information and help advance work in this field. Areas of focus include the sharing of best practices across the province
and examples of excellence and barriers to local innovation, from the health care providers and private sectors.