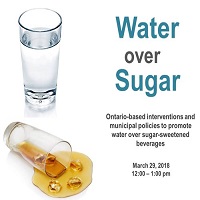 NRC Webinar – Water Over Sugar: Ontario-based Interventions and Municipal Policies to Promote Water
What: Webinar
When: March 29, 2018
Time: 12:00 pm
San Francisco, Boulder and Cook County recently joined a growing number of jurisdictions worldwide to take measures to curb the consumption of sugar-sweetened beverages. How has this trend spilled over into Ontario? What's happening in Ontario to promote water over sugary drinks?
In this webinar, you'll hear about the findings of an environmental scan of health promotion interventions and related resources used across Ontario to increase access and consumption of water and decrease that of sugar-sweetened beverages. You'll learn about the ways various health promotion strategies being used in these comprehensive, multi-strategic interventions. You`ll hear about some of the main barriers and facilitators to intervention implementation and efforts for evaluating Ontario's healthy hydration interventions. The webinar will also outline different types of policy interventions aimed at reducing the consumption of sugary beverages and how you can support municipal policy change in your own community.
Speakers:
Kim Bergeron, PhD
Assistant Professor (Adjunct), Queen's University
As a policy leader, Dr. Bergeron's work focuses on the development of healthy public policy to create healthy, sustainable and vibrant community settings. She is a systems-thinker who is proficient in designing and implementing learning activities that provide opportunities for learners to test ideas, initiate critical thinking and apply the knowledge gained to solve real problems.
Donna Smith, MPH, RD
Policy and Program Consultant
Nutrition Resource Centre
Donna Smith is a Registered Dietitian and Policy and Program Consultant for the Nutrition Resource Centre (NRC) at the Ontario Public Health Association. Her primary responsibilities include stakeholder engagement, knowledge translation, consultation and support for policy and programs across Ontario, as well as research and resource development.