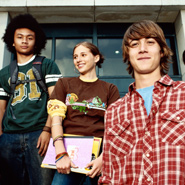 Marketing Towards Children
What: Webinar
When: February 25, 2013
Time: 9:00 am
Where: Toronto
The Marketing Towards Children webinar theme is OPHA & NRC's inaugural annual joint knowledge exchange and transfer event. This webinar includes presentations on the history and current state of marketing and advertising towards children, the role of public health, approaches for marketing health and nutrition, and policy development and evaluation. Presentations are made by leading thought-leaders and experts.
Event Resources
Suzie Pellerin, Director, Coalition Poids
Dr Yoni Freedhoff MD CCFP, Medical Director, Bariatric Medical Institute; Assistant Professor, Faculty of Medicine, University of Ottawa Discussions around the marketing of foods to children understandably tend to gravitate towards the food industry and their culpability in pushing unhealthy foods on innocents. Often lost in the discussion is the fact that the food industry is simply doing their job. But what about us? What is our role in the marketing of junk food to children? Are we targeting the wrong people when we focus on the food industry? Are there targets within the public delivery of health where we are failing, and should there be a greater focus on fixing those issues? Is encouraging or cajoling the food industry to truly do the right thing for our health the best allocation of our efforts? Join Dr Freedhoff as we seek answers to these important and provocative questions.
Suzie Pellerin, Director, Coalition Poids While health professionals worry about today's consumption of sugar-sweetened beverages by our youth, marketeers are cleverly using new technologies, new media and massive budgets to reach this target population and encourage them to consume sugar-sweetened beverages. For example, in 2004, the USA junk food industry spent 1,178 times as much on advertising as the government spent on its "5 A Day" campaign to promote eating fruit and vegetables. The variety of marketing strategies of the beverages industry to reach youth will be presented and some consensus recommendations to reduce the attractiveness of sugary drinks will be proposed.
Janet Davis, City Councillor, Ward 31 Beaches-East York, Toronto
Moderator: Siu Mee Cheng, Executive Director, Ontario Public Health Association Join leading experts as they discuss the strengths and weaknesses of different policy approaches towards marketing to children, including the total advertising ban and nutrition-based ban.
Moderator: Heather Thomas RD PhD, Public Health Dietitian, Middlesex-London Health Unit Interactive panel discussion providing an overview of the history and current trends in marketing to children, relevance to public health practice, and successes and challenges related to Quebecs experience in prohibiting advertising targeted to children.