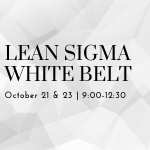 Lean Sigma White Belt Virtual Training
What: Webinar
When: October 21, 2020
Time: 9:00 am - 5:00 pm
Given COVID-19 restrictions, the Lean Sigma White Belt training will occur virtually in two parts on October 21st & 23rd from 9:00am-12:30pm
Welcome to the registration page for the OPHA Lean Sigma White Belt Workshop!
Designed specifically for public and community health, OPHA Lean Sigma Workshops will strengthen your continuous quality improvement and leadership skills to achieve positive change through learning how to integrate Lean Sigma as part of a quality improvement framework.
Discounts!
White + Yellow – 5% discount
* Please email us (info@opha.on.ca) for the promo code to receive the discount.
Quality Improvement in Public Health
OPHA is committed to the importance of quality improvement in public health. We seek for Ontario to have a responsive and adaptable system meeting community needs with effective leadership. OPHA in collaboration with the Leading Edge Group offers LEAN sigma training catered specifically for public health professional. We also host informative webinars in efforts to support continuous quality improvement in public health.
Click here to learn more about quality improvements in public health.
Become an OPHA member to take advantage of membership discounts.
About OPHA
The Ontario Public Health Association has established a strong record of success as the voice of Public Health in Ontario. We are a member-based, not-for-profit association that has been advancing the public health agenda since 1949. OPHA provides leadership on issues affecting the public's health and strengthens the impact of those who are active in public and community health throughout Ontario. OPHA does this through a variety of means including advocacy, capacity building, research and knowledge exchange and transfer. Our membership represents many disciplines from across multiple sectors.