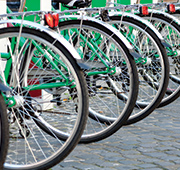 Eastern Ontario Active Transportation Summit
When: May 31, 2017
Time: 9:00 am
Where: Carleton Place Arena
Are you a downtown business person, who wants to discover the economic potential of pedestrian and cycle friendly communities? Or a town planner, or staff person, wanting to learn best practice techniques for building a healthier town? Maybe you're a resident that wants to be able to get around your community more easily and safely, on foot or on a bike. Come learn about simple concepts that make towns healthier, more vibrant, and stronger economically.
Join us at the Eastern Ontario Active Transportation Summit!
Taking place at the Carleton Place Arena- 75 Neelin Street; this summit will offer valued learning opportunities for Eastern Ontario communities to focus on the topic of "Building Healthy Active Communities".
Eleanor McMahon (MPP), Minister of Tourism, Culture and Sport will be joining us at the event providing inspiration and advice. Eleanor has worked in senior roles in business, government and the not-for-profit sector and is the founder of the Share the Road Cycling Coalition. She spent the early part of her career on Parliament Hill where she held a number of positions, including Press Secretary to the Right Honourable Jean Chrétien.
Join us on May 31, 2017 for a full day of workshops, guest speakers, and wonderful idea sharing conversation. We welcome you to join in the conversation and we look forward to your questions.
We are collaborating with Share the Road to provide a – "Bicycle Friendly Communities Designation Workshop" on June 1, 2017. This hands-on workshop will provide tangible ideas for how to achieve or elevate your current bicycle friendly community designation with local infrastructure in mind.
We will be having the ever popular Mayor's Slow Bike Race, where Mayor's or their designates race as slowly as they can on their bicycles without putting a foot to the ground or falling over, to the finish line. The winner will earn the coveted position of the Mayor's Sow Bike Race Champion.
The summit will provide success stories about making communities more walkable and bikeable through trails, sidewalks, parks and pathways. We have an excellent list of presenters who will share ideas, resources, expertise, successes and struggles implementing active transportation in our eastern Ontario region.
We hope to see you there!
-Town of Carleton Place, Carleton Place Economic Development Committe, Health Communities Partnership, Leeds Grenville and Lanark District Health Unit, Mills Community Support, Share the Road.