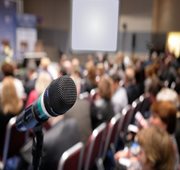 Creating and implementing an evidence base for improved built environment standards and codes
When: June 13, 2016
Time: 8:30 am
Where: Osgood Ballroom West/Lower Concourse, Sheraton Centre Toronto Hotel
Failures in the built environment affect individuals, families and communities. Experience shows that public health interventions pertaining to the built environment, and especially as concerns building and safety codes, cannot be left to voluntary implementation and compliance. But developing and presenting the 'public health case' for improved building and safety codes has its challenges. For example:
Lack of evidence specific to injuries poses major challenges for improved building and safety codes;
The available data under-represent societal burden of injuries and fail to link contexts and circumstances of injuries; and
Widely differing metrics are used by the building and health sectors.
The international, authoritative expert panellists will present a variety of perspectives on these challenges. The session will include breakout round-table sessions during which participants will interact with each of the speakers in small group discussions. Session participants will be better informed and able to help advance public health interventions, utilizing standards and codes, in an inadequately examined but pervasive context, the built environment, especially our homes.
Speakers:
Dr. Geoff Fernie, Senior Scientist, Toronto Rehabilitation Institute-University Health Network, Toronto (ON)
Dr. Ted Miller, Senior Research Scientist, Pacific Institute of Research & Evaluation, Calverton (MD) US
Douglas Crawford, Chair, Canadian Commission on Building and Fire Codes and former Deputy Fire Marshal/Ontario, Toronto (ON)
Dr. Steve McFaull, Centre for Chronic Disease Prevention, Public Health Agency of Canada, Ottawa (ON) (to be confirmed)
Discussant:
Prof. Michael Moore, CEO Public Health Association of Australia and President, World Federation of Public Health Associations
Organizers/Moderators:
Jake Pauls, Principal Consultant, Jake Pauls Consulting Services, Toronto (ON)
James Chauvin, Independent Public Health Advocate and Consultant, Gatineau (QC)
NO REGISTRATION FEE
Event Resources